Beautiful, Durable Seamless Gutters for Your Home in the Greater Chicago Area
Are you worried about the negative consequences that old gutters can have on your Chicago area home? Gutters that aren't doing their job make your home vulnerable to water damage and flooding.
Don't wait until your gutters damage your home before you replace them. Our team at LeafCo can install beautiful, efficient seamless gutters that you and your family will love.
Benefits of Seamless Gutters
Homeowners enjoy these benefits that seamless gutters provide:
Reduced debris for ease of cleaning

Less likely to develop leaks

Protected roof, soffit, and fascia
Reduced risk of basement flooding and structural damage

No icy sidewalks from weather-related gutter overflow

Expensive landscapes stay intact
Mastic Seamless Aluminum Gutters: Trusted by Chicago Area Homeowners
Aluminum is durable and long-lasting, and the perfect material to complement your seamless gutters. Despite being lightweight, aluminum can hold more water than any other type of gutter material. Unlike copper and steel, aluminum doesn't corrode over time and is customizable to match your home.
Homeowners trust Mastic seamless aluminum gutters for their quality, longevity, and other unbeatable benefits:
Exceptionally Strong – Durable and supportive, even in harsh weather conditions
Low Maintenance – Offered in 23 colors to match your home, so no painting is required
Revolutionary Two-Coat Finish – Combines a rust-inhibiting primer and ultra-tough, low-mar topcoat on both sides of the coil for long-lasting performance
5" or 6" Aluminum Coil Options – Provides customizability for your home
Eco-Friendly – Sustainable and recyclable to benefit the environment
20-Year Warranty – Peace of mind guaranteed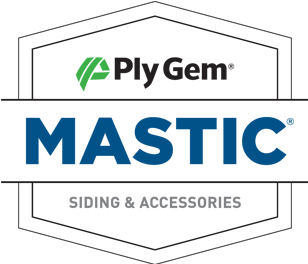 Why You Should Choose LeafCo for Your Seamless Gutter Installation
Why risk the integrity of your home with unreliable gutters when you can enjoy all the benefits offered by Mastic seamless aluminum gutters?
Here's a few things that make LeafCo Gutters different:
35 years of industry experience

Most jobs take less than 1 day, start to finish

We use only premium-grade gutter and guard materials

Because you want to know who is at your home, our uniformed installers will arrive 5 minutes early to access the exterior in a LeafCo Gutter branded vehicle.

Protecting your warranty is important, so we file all the warranty paperwork for you.

Our installers are respectful of your home — we leave the job site squeaky clean and are extra careful, especially if you have pets or small children.
Contact LeafCo today to schedule your seamless gutter installation. We are committed to providing you with a smooth and transparent gutter installation process that satisfies your needs. Check out our gallery to see completed projects in the greater Chicago area.
Interested? We're easy to work with:

Request a

Consultation

We will work with your schedule and help you understand your options.

Get a Detailed Quote
You'll receive an itemized quote with design images.

Forget About Your Gutters
Avoid issues with gutters that just don't work like they should.
"LeafCo was extremely easily to work with and friendly. Installer arrived on-time and completed the work in a professional manner. Cleanup after the job was meticulous!"

Wondering if you can afford new gutters and gutter guards?
We offer financing options so you don't have to wait to address your exterior problems.