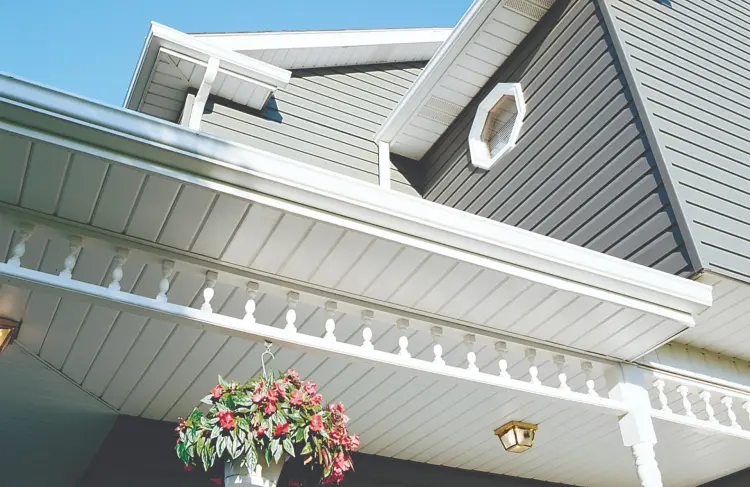 Your home's gutters perform a practical function, draining water safely away—but that doesn't mean they need to be boring and unattractive. Choose the right color to accent your home, and your gutters can become a beautiful addition to your house's overall curb appeal.
We've put together a handy checklist of tips for selecting a gutter color that brings out the best in your home.
4 Techniques for Choosing the Best Gutter Color 
Gutters come in many shades to make it simple to find the right look. These four methods can help you narrow down your selection.
Match Your Siding 
Your siding provides the main color for your home's overall aesthetic. Choosing a gutter color that matches will help them blend in seamlessly. This works if your home is a common shade such as white, gray, or beige. If you've painted with a custom color (such as a shade of purple, salmon, or yellow), however, it may be hard to find a perfect match.
Match Your Trim 
Trim colors are designed to match well with a wide variety of paints and siding colors. This means it tends to be easier to match gutters with trim colors. This approach is convenient and makes gutters a part of your overall exterior accents to create a seamless look.
Match Your Roof 
Some houses, such as those with contemporary and modern architectural styles, may have no trim to speak of. In this case, looking for gutter colors that match the tones in your roofing is a great solution. They'll blend easily with your roof for a sharp, clean look. 
Create Intentional Contrast 
Just as you can paint your front door a unique, contrasting color that pops against your siding, your gutters can do the same. Play with the color wheel to find contrasting tones. Use the idea of opposites and consider using a dark shade against light siding, or a light tone against dark siding.
Color Combinations that Complement a Home 
For further guidance in planning your color combinations, think about these basic rules for creating attractive home aesthetics.
Three Colors
Many homes feature a combination of three colors, such as light gray siding, black or white trim, and a grey roof. Keep things simple with your gutters by choosing white if the trim is white, or a grey that matches your roof.
Monochrome Style
Houses with a monochrome look have siding, trim, doors, and roofing that are different shades of the same color. This look is achieved most often with shades of blue, green, or gray. Match your gutters to one of the shades on your home to keep the monochrome look consistent.
Light Tones 
It's common to create a classic look by painting home exteriors a shade of white, off-white, or beige. And this look is often complemented by a traditional gray roof. In this case, matching trim color to gutters is an option, as is a white or beige that matches the siding.
Dark Shades 
Deep colors such as dark blue or black for siding are popular and striking. Depending on your home's architecture, you may enjoy gutters with a similar color so they blend in, or prefer them to match your trim. Another creative option is to invest in eye-catching copper gutters, as their bright tone looks good against darker hues.
Red Brick 
If your home has traditional brick siding, you have a few ways to approach your gutter color. If your brick is matched with white trim and a gray roof, then white gutters will blend well as accents. If you've chosen a bolder color accent such as brown or black, you can consider similarly colored gutters or go with white.
Get New Gutters that Create Curb Appeal and Peace of Mind   
As you plan for your Greater Chicago home's gutter replacement, why not explore the rich world of possibilities? Check out our gallery of gutter styles and colors for inspiration and learn the benefits of having your installation performed by our caring, expert team at LeafCo Gutters.